INOX (R) - SPECTRAL Stainless steel products
INOX®-SPECTRAL processed stainless steel sheets and plates offer new dimensions to the sophisticated exterior and interior architecture. The INOX®-SPECTRAL -manufacturing process results in a transparent chromoxid-layer film on the outer surface. Depending on the thickness of this film and the so called "Interference-effects" - the stainless steel surface resembles in an attractive colouration.Those "coloured" surfaces are extremely resistant against sunlight, weather and will keep the colour over years. The seven standard colours are Bronze, Champagne, Gold, Green, Blue, Red and Black.
The INOX®-SPECTRAL -manufacturing process is not a painting but a electro-chemical process. Currently we can offer 36 uncoloured patterns (see below) with seven standard INOX®-SPECTRAL -colours. Mixed colours can also be offered provided orders would have a reasonable volume.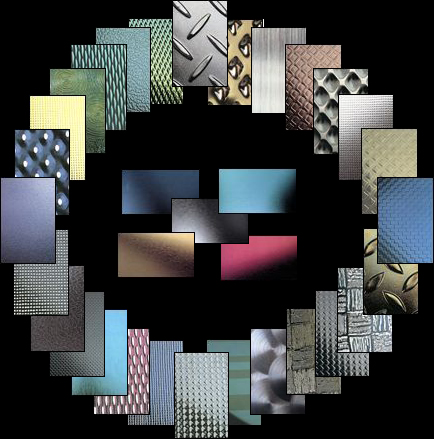 We also use the so called INOX®-TEC-Process in order to prevent finger-prints on the surface of the stainless steel.
This method
reduces the detection of finger prints,
makes cleaning of finger-prints or similar much easier,
provides excellent corrosion-protection,
is possible for all standard surfaces,
protects the structure of the pattern,
provides clean and homogenous look of the surface